---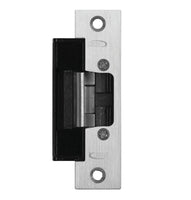 Standard electric strike for basic applications.  Accommodates up to 3/4" latch projection with 1/4" horizontal adjustment. Non-handed. Brushed US32D stainless steel finish.  Factory rated to over 1-million cycles of operation.  UL294 & UL1034 listed.  Certified to ANSI/BHMA A156.31 Grade 1.  Faceplate is ANSI with sharp corners.  375mA @ 12VDC.  Field selectable 12/24DC or 12/24AC.  1500 lbf static strength.  3 Year manufacturer's warranty.  Can be switched from fail-safe to fail-secure operation.  Trim plate included to cover up a rough prep.  Option latch and keeper monitor switch option available. This is an excellent choice for regular general purpose latching applications.

Additional information available here: 6 Series Centerline - Electric Strikes (RCI) | dormakaba
If your putting in a new strike, you might as well install a new leverset.
If you are using this strike in continuous duty operation (electrically unlocked for long periods of time) you should also order the ICEPK, which is a voltage regulation circuit that goes into the frame and keeps heat dissipation in the strike low for long life.  When using a strike with access control, most access controls can unlock the door automatically on schedule and keep the strikes energized during the entire schedule.  This is a perfect application that would benefit from the ICEPK.