---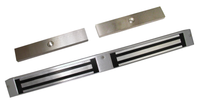 The 1120 series is an attractive, 2" profile, electromagnetic lock with 1200 lbs of holding force per leaf for use on a standard size double door entrance without center mullion.  Both 12V and 24V operation.  Made in USA with quality American made steel which eliminates residual magnetism when releasing the door.  Available in a variety of aluminum finishes.  Various mounting brackets available.  For special mounting brackets and accessories not in the catalog, request those in the order comments and we will revise your order.  Maglocks require additional hardware to be fire code compliant; if you are unfamiliar with these arrangements, consider purchasing a maglock kit from our catalog.  This mag is UL Listed and also fully approved for the City of New York.  Picture shows aluminum version.
The Door Position Switch (DPS-x2D) option is a switch that signals if the door is open or closed.  The Magnetic Bond Sensor (MBS-x2B) option is a switch that closes when the lock is energized and there is no obstruction between the lock and the armature plate.  When selecting these options there will be one option on each leaf.
See detailed brochure here: brochure (dortronics.com)

See mounting diagram here: mounting (dortronics.com)
If you want to add a remote control to release the maglock, add this item to your order with the remote control option.
See optional special order accessories here (leave note in order comments): accessories (dortronics.com)