---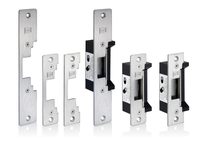 New Item to the industry!
Standard electric strike for typical latch applications.  Accommodates up to 3/4" latch projection with 1/4" horizontal adjustment. Non-handed. Brushed US32D stainless steel finish.  Factory rated to over 1-million cycles of operation.  UL294 & UL1034 listed.  This universal kit includes three popular sized faceplates for installation with different existing cutouts, including ANSI with round corners, ANSI with sharp corners and extended with radius corners (1-7/16"W x 7-15/16).  375mA @ 12VDC.  Field selectable 12/24DC or 12/24AC.  1000 lb-f static strength.  Can be switched from fail-safe to fail-secure operation. This is an excellent choice for regular general purpose latching applications.
Additional information available here: BEAStrikes.pdf
If you are using this strike in continuous duty operation (electrically unlocked for long periods of time) you can also consider ordering the ICEPK, which is an optional voltage regulation circuit that goes into the frame and keeps heat dissipation in the strike low for long life.  When using a strike with access control, most access controls can unlock the door automatically on schedule and keep the strikes energized during the entire schedule.  This is a perfect application that would benefit from the ICEPK.
If your putting in a new strike, you might as well install a new leverset.