---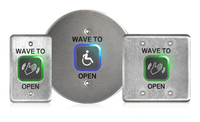 The MS41 switch uses the top-of-the-line technology when it comes to touchless sensor switches and is a fancier version of the MS31.  This product line bounces a frickin' radar beam off of the users hand to detect presence.  The radar is more sophisticated than other technologies and offers proper operation under a wide array of environments and has adjustable activation range.  Unrivaled detection range from up to 24" away but can be adjusted down to 4".  The device can be set up as a momentary relay output from a half a second to 30 seconds, or can also be set up to toggle the output on detection. All MS41 have stainless steel finish for ruggedization and have a LED indicator and audible sounder.
BEA's MAGIC SWITCH Family can be adjusted to comply with the ANSI 156.10 knowing act standard.  There are a variety of faceplate colors and styles available so make sure you are selecting the proper cosmetic when ordering*.  This unit comes in single gang, double gang or round versions.  FCC approved, AAADM certified.
For applications requiring hygienic activation include hospitals, pharmacies, clean rooms and foodservice facilities, this technology can't be beat.  

Datasheet: 79.0627.03.EN-MS41-20201020.pdf
Manufacturer's site: MS41 | BEA Americas (beasensors.com)
YouTube Video: (320) BEA Product Showcase: MS41 - YouTube
*Some variants may not be available for immediate shipment.