---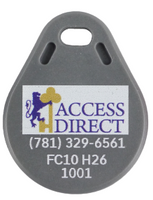 The Highpower Select Series of 125Khz proximity fobs are competitive and can be ordered in a wide variety of compatible protocols.  When ordering these fobs, you need to specify a compatible format that works with the card reader you are using.  The HFB part number is a black fob that can go on your keychain. Specify the card format, facility code and ID card number ranges when ordering.  Larger pack sizes provides larger discount per card.
Specify facility code and card ID range in the order comments.  If you do not specify this info and are a new customer, the next available ID number for a format will be provided. We track previous orders, so if you are reordering and don't provide this info, we will use the last format ordered and next available ID range. 
Custom logos and marking available if you provide artwork.  Logos and marking can be ordered in either color or white UV printing or laser marking.
If you do not see the format in the list that you require OR ARE NOT SURE, email us and we can identify and arrange a free analysis of your card samples.