---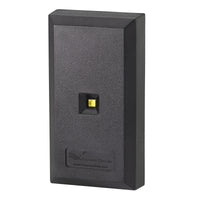 The Delta3 is a mullion mounted 13.56 Mhz Smartcard reader for direct mounting to door frames.  A black snap on cover included.  A rear spacer is included also to ensure performance of the reader when mounted on a metal surface.  The Delta 3-(CSN) version returns the CSN (serial number) of the MiFare card as a card ID and the standard Delta3 can be ordered to read sector information. 
Datasheet available here: Delta3_TDS.pdf (farpointedata.com)
If there are questions about compatibility of this reader with your card or application, please email sales@shopandlock.net before ordering.
These professional readers require a door controller to function.
MiFare is a registered trademark of NXP B.V.