---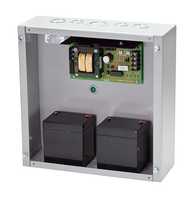 Economy but rugged, low electrical noise linear power supply for electromagnetic locks & access control equipment with battery backup circuit.  Batteries are optional.
The Lightning 505 Regulated Power Supply is a reliable, general purpose access control power supply. It features selectable 12 or 24 VDC 1.25 Amp output with integrated battery backup, guarding against electrical failure (actual voltage output is 13.8 VDC and 27.6 VDC respectively). Output voltage is selectable with a jumper.
This access control power supply is a linear low noise design, so it can work well with sensitive electronics (like powering card readers and door controllers) in addition to powering a selection of access control equipment, including electric strikes and maglocks. 
If ordering batteries to utilize the battery backup feature, with 12 volt output configuration either (1) 8AH battery or (2) 5AH batteries can be used.  With 24 volt output configuration, the (2) 5AH battery option must be selected.
Assembled in USA with foreign components. 1-Year manufacturer's warranty.