---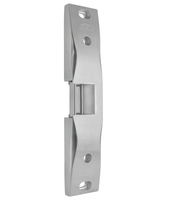 Completely surface mounted rim strike designed for use with Pullman latch rim exit devices (crash bars).  No frame cutting required for this application.  Accommodates 1/2" to 3/4" latch projection and is non-handed.  UL 294, UL 1034 listed.  Optional CAN/ULC 3-hour fire rating UL10C listed.  Fire rated model is CA state fire marshal listed. 1500 lbf static and 70ft-lbs dynamic force. Fail-secure operation only.  Draws 500mA@12V but can also run 24V which is field selectable. Rated for 500,000 cycles. 32D brushed stainless steel finish. Dimensions 1-3/4"W x 9"H x 3/4"D. 5 year manufacturer's warranty.  Latch monitor switch available as an option.
Please ensure that there is more than 3/4" clearance between the housing of the crash bar and the face of the door frame in order to accommodate this model.  There is also a 1/2" deep version of this product for situations where less clearance between the latch housing and the frame is available.
Additional information on this product: 0162 3/4" Rim - Electric Strikes (RCI) | dormakaba
If you are using this strike in continuous duty operation (electrically unlocked for long periods of time) you should also order the ICEPK, which is a voltage regulation circuit that goes into the frame and keeps heat dissipation in the strike low for long life.  When using a strike with access control, most access controls can unlock the door automatically on schedule and keep the strikes energized during the entire schedule.  This is a perfect application that would benefit from the ICEPK.