---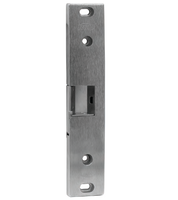 Completely surface mounted rim strike designed for use with Pullman latch rim exit devices (crash bars).  Designed to fit in tight situations where the exit device housing is very close to the door frame.  No frame cutting required for this application.  Accommodates 1/2" to 3/4" latch projection and is non-handed.  UL 294, UL 1034 and UL 10C listed.  500 lbf static and 70ft-lbs dynamic force. Fail-secure operation only.  Draws 500mA@12V but can also run 24V which is field selectable. Rated for 500,000 cycles. 32D brushed stainless steel finish. 1/16" spacer plate included. Dimensions 1-3/4"W x 9"H x 1/2"D. 5 year manufacturer's warranty.  Latch monitor switch available as an option.
Please ensure that there is more than 1/2" clearance between the housing of the crash bar and the face of the door frame in order to accommodate this model.  
Additional information on this product: RCI 0163 1/2" Rim (dormakaba.com)
If you are using this strike in continuous duty operation (electrically unlocked for long periods of time) you should also order the ICEPK, which is a voltage regulation circuit that goes into the frame and keeps heat dissipation in the strike low for long life.  When using a strike with access control, most access controls can unlock the door automatically on schedule and keep the strikes energized during the entire schedule.  This is a perfect application that would benefit from the ICEPK.