---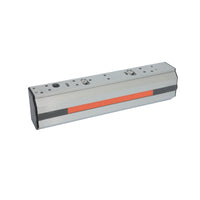 The DE8310 Delayed Egress all-in-one lock can detect when pressure is applied to a door and can be field selected with a release delay of 15 or 30 seconds. This perimeter door solution is unique in that there is no need to replace existing door hardware, making it an easy and affordable access solution. The RCI DE8310 includes an external alarm sounder, keyswitch for reset and override, and a building code sign for single outswinging doors. The RCI DE8310-S includes a built-in sounder rather than the external sounder in the base unit. This electromagnetic lock series can be monitored locally or remotely through relay outputs. It is ideal for applications requiring loss prevention, life safety, and traffic control. 
Fire safety considerations should be considered when utilizing one of these units.  Consult your local AHJ or fire marshal to make sure these are allowed in your application and that they are approved for use before purchase. 
Filler plates are available: Accessories
Additional information available here: DE8310 Delayed Egress - Mag Locks (RCI) | dormakaba
If you want to add a remote control to release the maglock, add this item to your order with the remote control option.