---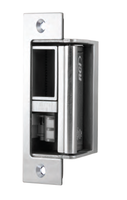 Versatile electric strike that can be adapted in the field to work with a wide array of lock and latch types.  Accommodates 1/2" to 3/4" latch projection.  Has adjustable keeper and deadlatch ramp with an adjustable saw-tooth locator system. Includes two shims, 1/2" and 3/4" for horizontally misaligned frames as well as a trim plate to cover up irregular frame cutouts when the guy before you completely screwed up.  Draws 375mA@12VDC but is also field selectable to 24VDC. 32D brushed stainless steel finish. Factory tested to over 2 million cycles of operation.  UL294, UL 1034 Listed.  UL10C 3 hour fire rating.  ANSI/BHMA A156.31 Grade I certified. Fire rated version "F" model is CAN/ULC S104 3 hour listed, CA State Fire Marshal Listed. Fire rated models are only available in fail-secure (locked without power) version.  5 Year manufacturer's warranty. 
Additional information available here: F2164/F2364 All-in-One - Electric Strikes (RCI) | dormakaba
If your putting in a new strike, you might as well install a new leverset.
If you are using this strike in continuous duty operation (electrically unlocked for long periods of time) you should also order the ICEPK, which is a voltage regulation circuit that goes into the frame and keeps heat dissipation in the strike low for long life.  When using a strike with access control, most access controls can unlock the door automatically on schedule and keep the strikes energized during the entire schedule.  This is a perfect application that would benefit from the ICEPK.