---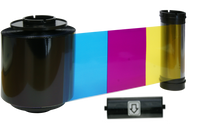 Full-color, two resin black and overlay panel ribbon with cleaning roller, 200 cards/roll. IDP 659376 YMCKOK ribbons are for dual-sided printing, with YMC, the first K panel and O panel prints on the front, and the second K panel prints on the back side of the card.
   For printing the front of the card:
Y - yellow panel
M - magenta panel
C - cyan panel
K - black resin panel
O - overlay panel
   For printing the rear of the card:
K - black resin panel
The IDP 659376 ribbon kit includes a cleaning roller to ensure optimal daily printing and is compatible for use with IDP Smart-51 and Smart-31 printer models.